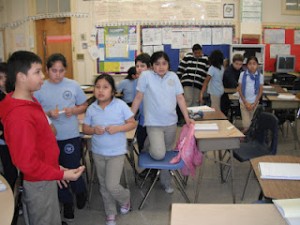 Grade: 4th grade unit
Topics: Bullying, Violence, Civil Rights
Social Justice Skills: Creating signs, Producing PSAs, Letter Writing
Teacher: Jim Fabros
During the Winter of 2011-2012, the 4th grade students of Room 113 at Abington Avenue School participated in a community walk in which they visited their favorite community restaurants and stores. This began their journey to investigate their community. This blog is dedicated to chronicle the activities and experiences of the students as they attempt to make their neighborhood a better place to live.
Ultimately, they decided that the most prevalent challenge to their direct community was violence, specifically bullying. After weeks of investigating and learning, the students produced signs and commercials meant to help raise awareness and motivate others to stop bullying. We hope to also be a part of creating a school wide conflict resolution group. Visit the link to view more details and process of our project.
Visit this blog: http://socialjusticeabington.blogspot.com/?zx=194741faefdce86e